CeBIT2013
When: 5-9 March 2013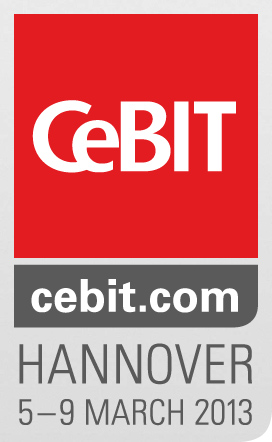 Where: Hannover, Germany

DISC will be on the Windream/Scanfabrik stand: Hall 3, Stand J20
Scanfabrik KG and windream GmbH will show a Dokument Management Appliance: A new appliance solution based on the windream server technology and the DISC ArXtor appliance. This hybrid Blu-ray Library is already preconfigured and can at any time  be extended with modules like WorkFlow component e-mail and SAP Archiving and others modules. Active data manegement can be combined with true  WORM archiving on modern Blu-ray media. The integrated WEB interface has check in, check out features and corresponding rules & policies for your clients.
Die scanfabrik KG und die windream GmbH zeigen zur CeBIT 2013 eine neuartige Appliance Lösung auf Basis der windream Server Technologie. Das Herzstück ist die moderne revisionssichere DISC ArXtor Appliance. Diese Hybrid Blu ray Library ist bereits vorkonfiguriert und kann jederzeit um Module wie WorkFlo, E-Mail und SAP Archivierung u.a. erweitert werden. Mit dieser Appliance steuern Sie den aktiven Content kombiniert mit einer revisionssicheren Archivierung auf moderne Blu-ray Medien. Das integrierte WEB Interface verfügt über check in, check out Funktionen und entsprechende rules & policies für Ihre Mandanten.
DISC will be on the PDO Europe stand: Hall 3, Stand D34/1
PDO Europe is also member of the OPARG Group and collaborates actively with providing an open platform for 100GB Professional Drives with Quality Check-function and Archival Blu-ray Media, guaranteeing 50 years of data reliability. Drives and Media have been certified by OPARG.