Healthcare Archive
DISC ArXtor Appliance & QStar Archive Manager for Healthcare 
Data-intensive picture archiving and communication systems (PACS) and electronic medical records continue to increase data storage requirements for the healthcare industry. Patient data retention periods can vary from seven years, to the life of the patient or beyond, due to ongoing litigation. It is important that this valuable data be stored on the most secure long-term, cost effective technology for image preservation.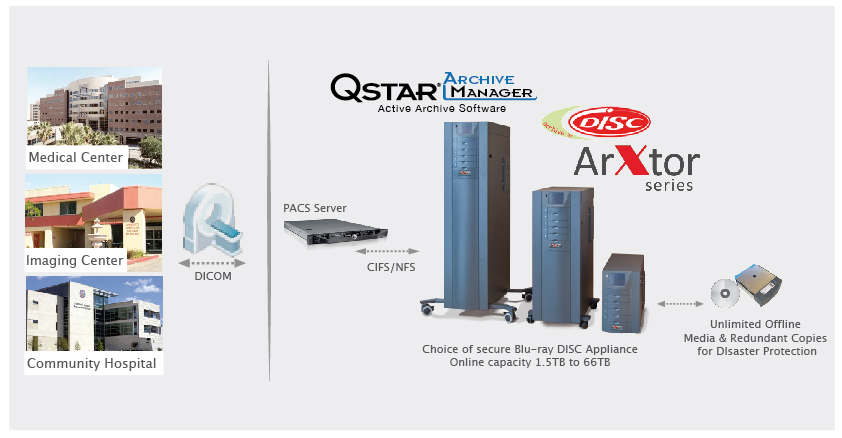 This solution combines QStar Archive Manager Software with the DISC ArXtor  Appliance to provide hospitals, imaging centers and clinics with a secure active archive solution that ensures radiologists and other healthcare professionals have access to the patient data they need to provide quality patient care.
It delivers a flexible archive solution that provides cost-saving long-term storage efficiency, optimum scalability and robust features that can manage the growth and changes needed to meet stringent patient data retention and protection requirements.
Powerful software Delivers Data Accessibility, Retention and Protection
QStar Archive Manager creates an Active Archive by virtualizing the DISC ArXtor Appliance, presenting the archive as a network share using industry standard CIFS or NFS protocols. Healthcare professionals can easily search and retrieve patient data directly from the archive. Even offline media is efficiently tracked for simple retrieval.
A robust retention management feature is provided by QStar Archive Manager software, ensuring that valuable archived data is managed and protected efficiently. Retention management securely retains files in a read-only format, within the archive, for a pre-determined period of time. Multiple retention periods can be created to support different data sets to meet varying compliance needs.
The solution offers several disaster protection strategies: A simple, low-cost strategy is to simply make a media copy and remove it from the DISC Arxtor Appliance for transport to a remote location. More advanced alternatives are optional mirroring or replication, to other on-site or off-site ArXtor Appliances.
Next Generation Network-Attached Blu-ray Archival Storage Appliance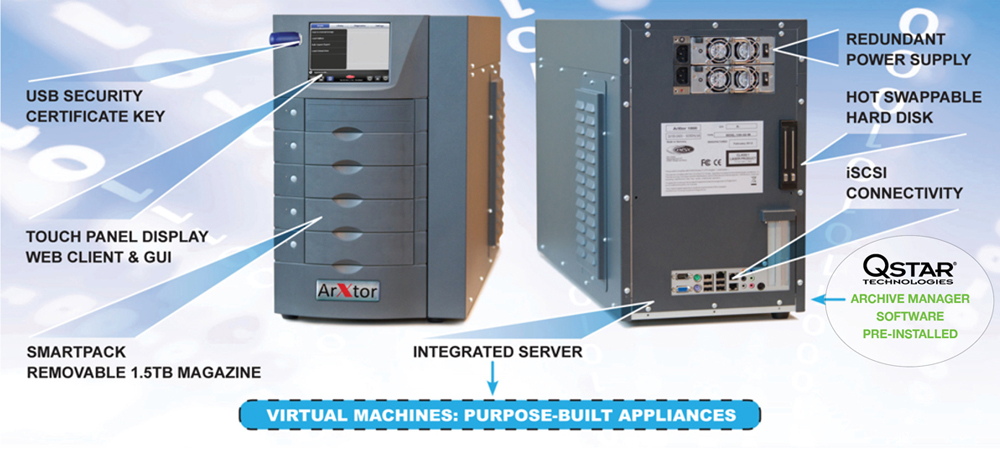 The DISC Archiving Systems' ArXtor Appliance is a Blu-ray optical archiving solution which provides for the centralized Write-Once storage of PACS images and RIS data for long-term compliant archival storage and retrieval. The integrated server eliminates the need for additional storage management hardware and with the QStar Archive Manager software it facilitates transparent integration, support and network connectivity to all PACS/RIS clients over a GigE LAN with no local client agents required. The ArXtor Appliance also integrates and supports hot swappable redundant hard disk storage for archive cache and overall application scalability.The ArXtor's intelligent touch-panel display and web-based GUI provide simple yet powerful library configuration and administration capabilities, both locally and via the network (Java). DISC's patented SmartPack removable media technology facilitates quick "hands free" bulk media import/export while enabling robust bare media security for off-line media handling and infinite off-line media storage. The DISC ArXtor Appliance Series offers a range of frame sizes and capacities, available in rack-mount and free-standing pedestal configurations.
 Key Benefits DISC QStar HealthCare Archive:
• Seamless integration with any PACS/HIS application server usingindustry standard CIFS/NFS protocols as a standard network share,providing access to all archived data
• Secure Long-Term Data Management and Preservation – online and offline
• Automated retention management, which prevents files from being altered or deleted, to meet internal governance or compliance requirements
• Standard Media copy feature or optional mirroring and replication for disaster prevention
• Leading-edge Appliance solution for near-line and off-line archiving
• Providing virtual tape library support and archival storage file system
• Green storage technology with the lowest power consumption available
• Long-term 50+ year Blu-ray Disc media life with true WORM support
• DISC SmartPack removable media technology offers infinite off-line media storage
• Certified by Major PACS/Solution Vendors
• Installation & Support Available Worldwide