Home
»
StorageQuest Archive Manager supports new DISC ArXtor Series
StorageQuest Archive Manager supports new DISC ArXtor Series
DISC Archiving Systems and StorageQuest, Inc. Announce Software Support for DISC's New ArXtor Blu-ray iSCSI Library Series
Denver (2 October 2012): DISC Archiving Systems B.V. ("DISC"), market leader in professional data archiving, announces the software support of StorageQuest Archive Manager (SAM) for the new DISC ArXtor Series.
The StorageQuest Archive Manager (SAM) is a low-cost optical library management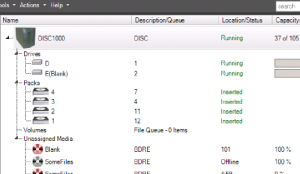 application built using today's leading development tools and technologies. A newly created sophisticated Graphical User Interface (GUI) runs on top of a mature and widely deployed StorageQuest core UDF Device Drivers and Robotic control modules to create a fully featured, flexible, powerful, and automated optical archive manager. The SAM application writes archive data in the background to Blu-ray optical media through the DISC ArXtor Optical Library. Archive data such as audio, video, medical images, financial records, etc. is automatically spanned over as  many discs as necessary without any user intervention. Some of the powerful features in the software include offline media tracking & remote replication.
DISC announced in the Spring-2012 the next generation of Blu-ray Archival Storage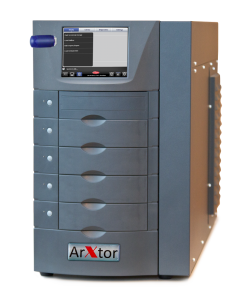 Libraries including iSCSI connectivity and Purpose-Built Virtual Appliance options to support a variety of industry leading middleware archival tiered-storage management solutions. Engineered and manufactured in Germany, the new ArXtor Series continues with DISC´s long tradition of developing innovative, direct-attached automated optical library solutions.  Mechanically based on DISC´s industry proven DISC Series "touchless media", patented SmartPack and reliable robotics technology, the new ArXtor Series using industry leading Blu-ray optical drive technologies is a turnkey archival storage automation solution for managing 120mm optical media  (BD/BDXL/DVD/CD).
"StorageQuest´s Software Technology complements DISC's new ArXtor Blu-ray iSCSI Libraries Series by providing a very cost competitive, ease to use/administer and a feature rich approach to data storage management," said Mark Brown, VP Sales North-America of DISC Archiving Systems.
"Both StorageQuest and DISC have been in the storage business for decades and this continued technology partnership highlights our ability to work together to not only understand the new challenges and demands facing the data-oriented enterprise, SMB and government workforce, but also to deliver fully automated long-term archiving solutions specifically tailored to meet the evolving needs of today's customer IT infrastructures," said Marwan Zayed, President and CEO, StorageQuest Inc.
"Data has been growing exponentially. Businesses and governments are realizing the importance of good data management practices and procedures with archiving a major component. An Archiving solution such as the StorageQuest Archive Manager (SAM) along with the new DISC ArXtor Blu-ray Library Series provides customers with a low Total Cost of Ownership to protect their valuable rapidly growing data for very long periods of time" said Brendan Lelieveld-Amiro, Director Product Development and Operations, StorageQuest Inc.
About StorageQuest
Since its inception in 1998, StorageQuest has pioneered data archiving management software and hardware technology, open solutions that continue to drive the evolution of data storage. StorageQuest storage solutions include network attached appliances, storage management software and services providing seamless storage management for open network environments. StorageQuest, Inc.is headquartered in Ottawa, Ontario, Canada. For more information, visit http://www.storagequest.com or contact:
World-Wide:
StorageQuest Inc.
Tim Monaghan, Account Executive
Email: timm@storagequest.com
Tel.(+1) 888 309 5216
About DISC
DISC Archiving Systems, Inc. (DISC) is a leading manufacturer of optical storage solutions for the long-term retention of digital data. DISC has been providing innovative solutions for over 20 years and thousands of installations worldwide. DISC  manufactures a complete line of automated Blu-ray optical archival storage  library products with on-line capacities ranging from 1.5TB to 70TB+.  Designed to meet rigorous regulatory compliance and long-term archival storage requirements, the DISC Blu-ray optical solutions are a superior green technology component for tiered Archive and Enterprise Content Management (ECM) solutions offering the lowest power and cooling consumption of any comparable storage product for Corporate, Education, Entertainment, Finance, Government, Healthcare, Imaging, Insurance, Pre/Post Audio/Video production, Law Enforcement/Surveillance markets and more.  DISC works closely with industry leading middleware storage management software solutions and provides complete integrated turnkey solutions. DISC's worldwide headquarters is located in Haarlem, The Netherlands, with North-American Sales and Support operations in Denver, Colorado.
For more information, please visit www.disc-group.com or contact:
North-America:
DISC Archiving Systems Inc.
Mark Brown, VP Sales North-America
Email: MBrown@disc-group.com
Tel. (+1) 866 960 9345
EMEA & ASIA Pacific:
DISC Archiving Systems BV.
Maureen Andrés-Boedhoe, Marketing Manager
E-mail: Mandres@disc-group.com
Tel. (+31) 23 5172 635
###