Home
»
DISC Archiving Systems and QStar Technologies Announce Software Support
DISC Archiving Systems and QStar Technologies Announce Software Support
Denver, CO (23 November 2012): DISC Archiving Systems ("DISC"), market leader in professional data archiving, and QStar Technologies, a global provider of enterprise-class archive and data management software, announce the software support of QStar Archive Manager for the new DISC ArXtor Series.
QStar Archive Manager software creates an Active Archive by virtualizing the DISC ArXtor Appliance, presenting the archive as a network share using industry standard CIFS or NFS protocols. A robust retention management feature is provided by QStar Archive Manager, ensuring that valuable archived data is managed and protected efficiently. The solution also offers several disaster protection strategies: QStar's media copy feature automatically creates a duplicate copy of selected archive volumes which can be removed from the DISC Arxtor Appliance for transport to a remote location. More advanced alternatives are optional mirroring or replication, to other on-site or off-site ArXtor Appliances.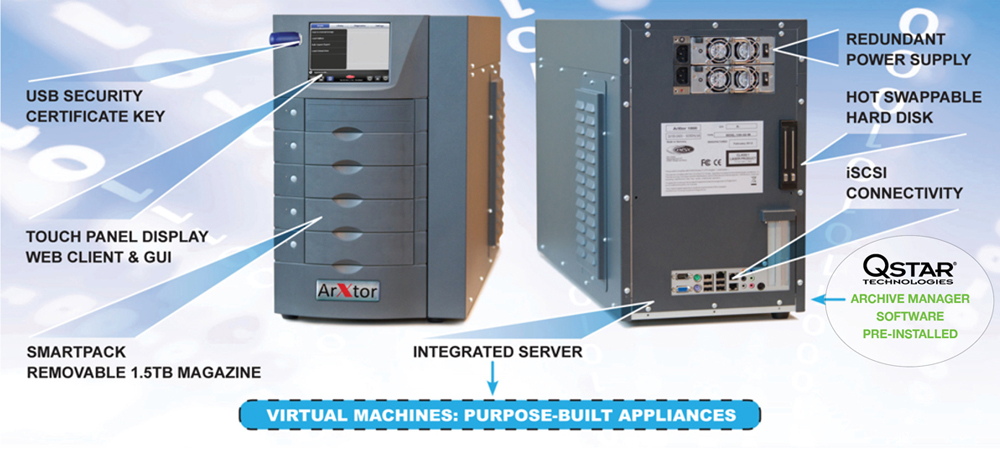 By using the QStar platform with DISC ArXtor Blu-ray libraries, customers can create a 3-2-1 Archive, which is beneficial to all industries including healthcare, broadcast, government, financial and manufacturing. Endorsed by leading industry analysts, the 3-2-1 Archiving and Data Protection Best Practice provides a proven framework that calls for 3 copies of all critical data, archived on 2 different storage technologies, with 1 copy offsite on removable media. This multi-tier archive approach offers highly reliable physical system resilience by managing valuable data on multiple storage technologies across multiple locations. At the same time, the 3-2-1 approach allows organizations to optimize expensive storage resources, while retaining archive data in a very flexible and cost effective environment.
Engineered and manufactured in Germany, the new ArXtor Series continues with DISC´s long tradition of developing innovative, direct-attached automated optical library solutions.  Mechanically based on DISC´s industry proven DISC Series "touchless media", patented SmartPack and reliable robotics technology, the new ArXtor Series using industry leading Blu-ray optical drive technologies is a turnkey archival storage automation solution for managing standardized (UDF) 120mm optical media (BD/BDXL/DVD/CD).
"Our joint solution delivers a flexible archive solution that provides cost-saving long-term storage efficiency, optimum scalability and robust features that can manage the growth and changes needed to meet stringent data retention and protection requirements" said Mark Brown, VP Sales North-America of DISC Archiving Systems. "Blu-ray based archive solutions offer exceptional value for money and have been widely accepted in many markets to create legally admissible formats. Like all optical based technologies, the media offers a random read capability, significantly improving load times compared to tape technology, which uses sequential access."
"QStar now uniquely supports the whole range of DISC ArXtor Libraries and features across all QStar's supported operating systems; Windows, Linux, UNIX and Mac and can be purchased with the software already installed in the ArXtor Appliance. " said Dave Thomson, Sr. VP Sales and Marketing, QStar Technologies. "BDXL technology can more than double the capacity of existing Blu-ray media (BD), yet continues to offer read and write backward compatibility to even the oldest 120mm technology of CD or DVD. The ability to read and write media manufactured 20 years ago is unique in the storage industry".
About QStar Technologies
Since 1987, QStar Technologies is a leading global provider of enterprise-class archive and data software solutions. QStar software is a key element to create an Active Archive that is operating system and storage hardware independent. The world's leading companies rely on QStar for secure, cost effective and reliable storage protection of their valuable digital assets. www.qstar.com
QStar Technologies Media Contact:
Linda Thomson, Global Marketing Director
l.thomson@qstar.com
850-240-6015
About DISC
DISC Archiving Systems, Inc. (DISC) is a leading manufacturer of optical storage solutions for the long-term retention of digital data. DISC has been providing innovative solutions for over 20 years and thousands of installations worldwide. DISC manufactures a complete line of automated Blu-ray optical archival storage library products with on-line capacities ranging from 1.5TB to 70TB+.  Designed to meet rigorous regulatory compliance and long-term archival storage requirements, the DISC Blu-ray optical solutions are a superior green technology component for tiered Archive and Enterprise Content Management (ECM) solutions offering the lowest power and cooling consumption of any comparable storage product for Corporate, Education, Entertainment, Finance, Government, Healthcare, Imaging, Insurance, Pre/Post Audio/Video production, Law Enforcement/Surveillance markets and more.  DISC works closely with industry leading middleware storage management software solutions and provides complete integrated turnkey solutions. DISC's worldwide headquarters is located in Haarlem, The Netherlands, with North-American Sales and Support operations in Denver, Colorado.
For more information, please visit www.disc-group.com or contact:
North-America:
DISC Archiving Systems Inc.
Mark Brown, VP Sales North-America
Email: MBrown@disc-group.com
Tel. (+1) 866 960 9345
EMEA & ASIA Pacific:
DISC Archiving Systems BV.
Maureen Andrés-Boedhoe, Marketing Manager
E-mail: Mandres@disc-group.com
Tel. (+31) 23 5172 635