Home
»
DISC Introduces Mobile App for ArXtor Series
DISC Introduces Mobile App for ArXtor Series
Haarlem, The Netherlands (4 March 2013): DISC Archiving Systems B.V. ("DISC"),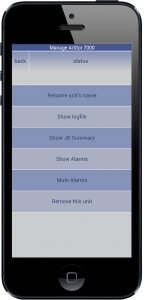 market leader in professional data archiving, announced today the launch of a mobile app for the DISC ArXtor Series of Archive Storage Libraries and Appliances.
With 10 billion mobile devices forecasted by 2020, the proliferation of mobile technology is fundamentally changing the way people think, work, act, and interact.
The new mobile app from DISC is designed to address this changing business environment by making it easier for system administrators, service engineers etc. to access the DISC ArXtor Libraries/Appliances. The App enables the user to mute alarms and obtain real-time system diagnostics using an iPad, iPhone or Android mobile device.
The app has an easy-to-use interface and is designed for:
● Status display
● Remote management (mute alarms etc.)
● Retrieve information (logfiles, JB Summary reports)
"This is another step to simplify the management of long-term data storage with the
most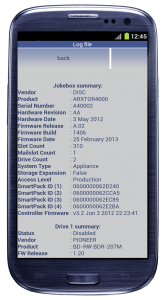 modern solution available today", states Kees Machielsen, CEO of DISC Archiving Systems. "The new DISC ArXtor Series already incorporate the latest iSCSI connectivity, hybrid archive storage technologies and they were the first Libraries/Appliances with an intelligent front-panel touch display ". "With the mobile app, system administrators are able to access the DISC ArXtor Libraries/Appliances remotely via any mobile device — anytime, anywhere."
The DISC ArXtor Series will be exhibited this week at the CeBIT Trade Show in Hannover, Germany:
● Windream/Scanfabrik stand: Hall 3, Stand J20
● PDO Europe stand: Hall 3, Stand D34/1
The mobile app will be available for all DISC ArXtor Series which will be shipped from March 2013 and onwards. Contact us for more information. 
About DISC
DISC Archiving Systems, Inc. (DISC) is a leading manufacturer of optical storage solutions for the long-term retention of digital data. DISC has been providing innovative solutions for over 20 years and thousands of installations worldwide. DISC manufactures a complete line of automated Blu-ray optical archival storage library products with on-line capacities ranging from 1.5TB to 70TB+.  Designed to meet rigorous regulatory compliance and long-term archival storage requirements, the DISC Blu-ray optical solutions are a superior green technology component for tiered Archive and Enterprise Content Management (ECM) solutions offering the lowest power and cooling consumption of any comparable storage product for Corporate, Education, Entertainment, Finance, Government, Healthcare, Imaging, Insurance, Pre/Post Audio/Video production, Law Enforcement/Surveillance markets and more.  DISC works closely with industry leading middleware storage management software solutions and provides complete integrated turnkey solutions. DISC's worldwide headquarters is located in Haarlem, The Netherlands, with North-American Sales and Support operations in Denver, Colorado.
For more information, please visit www.disc-group.com or contact:
North-America:
DISC Archiving Systems Inc.
Mark Brown, VP Sales/Business Development North-America
Email: MBrown@disc-group.com
Tel. (+1) 866 960 9345
EMEA & ASIA Pacific:
DISC Archiving Systems BV.
Maureen Andrés-Boedhoe, Marketing Manager
E-mail: Mandres@disc-group.com
Tel. (+31) 23 5172 635