Products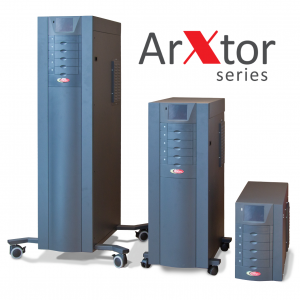 The new DISC ArXtor Series of iSCSI-based automated Blu-ray libraries provides cost-effective and innovative solutions for creating and managing intelligent digital archives. Easy to install, operate and manage, the ArXtor Series provides maximum flexibility in a wide range of storage capacity-based models. Regardless if you are implementing a local LAN, WAN, private or public CLOUD archive strategy, the ArXtor Series is a cost-effective 21st Century green storage technology solution.
ArXtor Series Key Benefits
• Simple Connectivity: iSCSI connectivity simplifies installation, integration and maintenance
• Flexibly Scalable: ArXtor Series offers a range of frame sizes and capacities, available in 12U/23U/35U rack-mount and free-standing pedestal configurations
• Virtual Capacity: SmartPack removable media technology offers infinite off-line media storage
• Touch-Panel Display: Intelligent touch-panel display provides simple yet powerful library configuration management capabilities, both locally and via the network (Java GUI)
• Intuitive Diagnostics: A web-based GUI provides direct access to the ArXtor Series library diagnostic utilities for simple and quick library maintenance
The new ArXtor Series consists of:
• ArXtor Lite Series: A full range of iSCSI Blu-ray libraries that integrate easily into any server and/or network environment.
• ArXtor Appliance Series: A series of scalable Appliances which can be effortlessly configured as Purpose-Built Archive Appliances. Based on KVM open-source Hypervisor utilizing Intel VT-x technology, which can be configured with up to two (2) Virtual environments/machine(s), eliminating the need for additional hardware and providing an unlimited number of integration possibilities.
DISC BD Series
With Blu-ray technology at its heart, the DISC BD Series provides BDXL optical storage technology with 50+ year media life, scalable design and true green storage. Capacities start at 5TB scaling to 70TB in a single unit.
DISC DVD Series
To ensure investment protection for our DVD customers we still offer DVD libraries based on our DISC DVD Series .