Broadcast India 2011
20th-22nd October 2011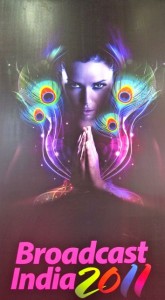 Broadcast India 2011, Bombay Exhibition Centre – Goregaon (E) Mumbai – Booth No. E-504.  DISC Archiving Systems was represented by Print Process Corporation.  
Review
Broadcast India was back as a hit this year. Along with the exhibition, Broadcast India also held a two day conference: a platform for informative presentations, lively discussions and enlightening debates.
Broadcast India is an exhibition dedicated to the rapidly evolving broadcast and entertainment industry in India and showcasing many of the world's leading companies with their latest technologies for the broadcast, film, 3D & Digital cinema, lights, animation, audio, radio, IPTV and mobile TV industries.
589 companies from 33 countries exhibited their state-of-the-art equipment and technology at this year's show.  On its conclusion after 3 days, both the exhibition and conference welcomed an unprecedented number of visitors from various fields of the entertainment industry, and recorded a 33% overall growth in exhibition space, thereby making it the most well-attended and successful Broadcast India Show to date.
Source: FD Times